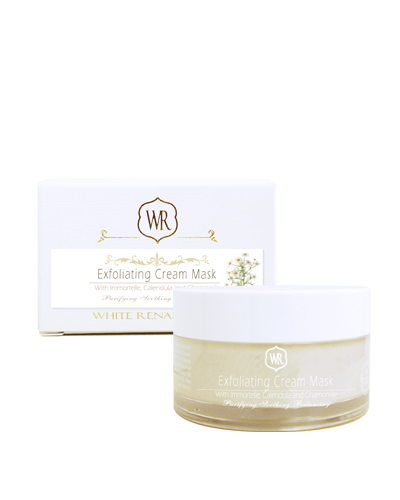 WRN008
WR Exfoliating Cream Mask
180g
A deep clarifying mask that works to lift away surface impurities, dead skin cells and excess oils to leave skin looking clear and calm. Leaves skin extra supple, smooth and glowing after application.

Direction: Apply an even layer to the skin with fingertips, avoiding eye area. Relax for 10 minutes, then remove with warm, damp cotton pads. Use weekly.

Ingredients: Aqua, Kaolin, Glycerin, Alcohol, Grape Seed Oil, PEG-7 Glyceryl Cocoate, Green Tea Leaf Extract, Chamomile Extract, Grape Seed Seed Extract, Seaweed Extract, Calendula officinalis Flower Extract, Lime Blossom Extract, Licorice Root Extract, Daisy Flower Extract, Turmeric Root Extract, Echinacea purpurea Root Extract, Macadamia ternifolia Seed Oil, Honey, Xanthan Gum, Ascorbic Acid (Vitamin C), Tocopherol (Vitamin E), Helichyrsum (Immortelle) Essential Oil, Chamomile Essential Oil, Lavender Essential Oil, Lemon Essential Oil, Petigrain Essential Oil, Rosewood Essential Oil, Aloe barbadensis Leaf Extract, Sodium Hydroxymethylglycinate, Lactic Acid, Grapefruit Seed Extract, Allantoin, Retinyl Palmitate (Vitamin A), Panthenol, Citral, Geraniol, Linalool, Limonene.