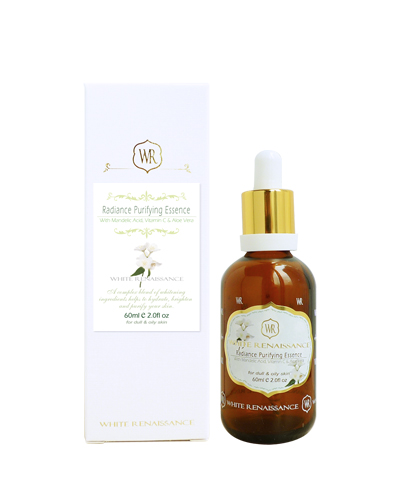 WRN016
WR Radiance Purifying Essence
60ml
Mandelic Acid lightens skin, reduces pore size, improves complexion. L-ascorbic Acid helps stimulate collagen production to firm the skin, reduce wrinkles and other signs of premature aging. Ideal for dull, oily, mild acne, blemishes or with normal skin.

Direction: Smooth a small amount over your face, neck and decollete 3 to 4 times a week. Stop use if irritation occurs.

Ingredients: Aloe Vera Juice, PEG-60 Almond Glycerides, Neroli Water, Sorbitol, PEG-150 Distearate, Benzyl Alcohol, Phenoxyethanol, Polysorbate 20, Mandelic Acid (10%), Lemon, Mandarin Orange, Lime, Bergamot, Petigrain Essential Oil, Panthenol, L-ascorbic Acid, Disodium EDTA, Citric Acid, Sodium Citrate, Grape Seed Extract, Camellia Sinensis Leaf Extract, Dehydroacetic Acid, Linalool, d-Limonene.