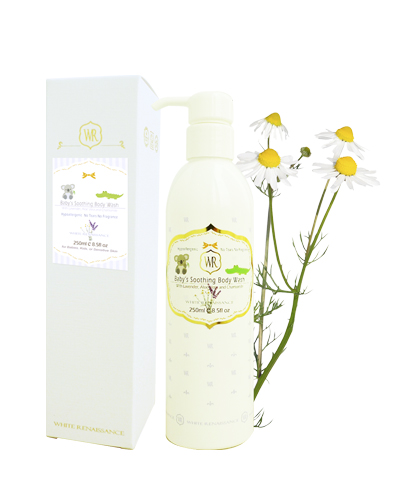 WRB002
WR BABY Soothing Body Wash
Formulated for baby's sensitive skin, this is an extremely gentle, mild, and soothing baby soap made with pure botanicals and organic ingredients that known to naturally cleanse, sooth, calm, moisturize, and nourish babyˇ¦s delicate skin.

Direction: Create a lather to wash baby's skin. Rinse well in warm water.

Ingredients: Aqua, Sodium Laureth Sulfate, Wheat Amino Acids, Cocamidopropyl Betaine, Vegetable Glycerine USP, Decyl Polyglucoside, PEG-7 Glyceryl Cocoate, Macadamia ternifolia Seed Oil, Cocami-dopropyl Betaine, Sodium Chloride, Guar Hydro-xypropyltrimonium Chloride, Lecithin, Sodium Hydro-xymethylglycinate, Lactic Acid, Aloe Vera Extract, Chamomile Extract, Horsetail Extract, Rosemary Leaf Extract, Birch Leaf Extract, Sweet Almond Oil, Lavender, Chamomile, Lemon, Geranium, Bergamot , Rosewood & Mandarin Orange Essential Oils, Grapefruit Seed Extract.

Hypoallergenic & no tears no fragrance.