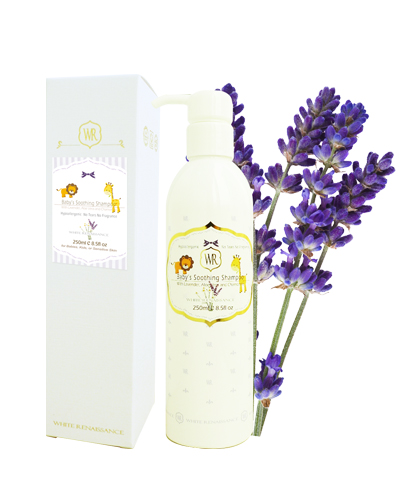 WRB001
WR BABY Soothing Shampoo
250ml
Gently cleans scalp and hair using organic herbal extracts of Chamomile, Aloe, Horsetail, Cucumber, and Lime Blossom. Plus a soft natural scent of Lavender and Lemon. Moisturizes, detangles, and adds shine.

Direction: Wet the hair and scalp thoroughly and apply the shampoo to the scalp area, lather and rinse well.

Ingredients: Aqua, Decyl Polyglucoside, Wheat Amino Acids, Titanium PEG-7 Glyceryl Cocoate, Vegetable Glycerine USP, Lactic Acid, Guar Hydroxypropyltrimonium Chloride, Cocamido-propyl Betaine, Sodium Lauroyl Sarcosinate, Sodium Hydroxymethylglycinate, Hydrolyzed Soy Protein, Glycerin, Sodium Chloride, Aloe Vera Extract, Chamomile Extract, Horsetail Extract, Lime Blossom Extract, Cucumber Extract, Sweet Almond Oil, Lavender, Chamomile, Lemon, Geranium, Grapefruit, Rosewood and Mandarin Orange Essential Oils, Grapefruit Seed Extract.

Hypoallergenic & no tears no fragrance.