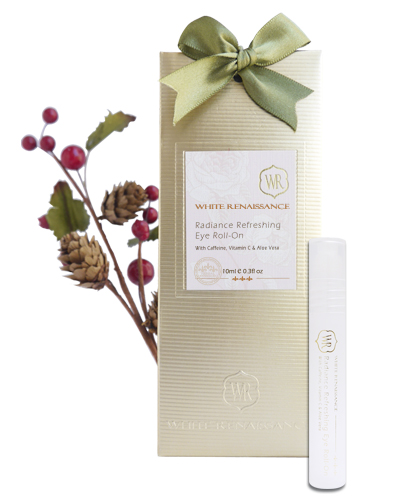 WRN045
WR Radiance Refreshing Eye Roll-On
10ml
With Caffeine, Vitamin C & Aloe Vera

Contains the perfect blend of ingredients to help wake up and revitalize tired eyes. Enriched with caffeine to stimulate tired eyes, vitamin C essence to soothe and brighten delicate under-eye skin, and lemon, neroli and mandarin orange essential oils provide instantly uplifting scent while clarify, rebalance oiliness and restore softness. Leaves skin feeling refined and refreshed.

Direction: Gently roll under each eye, allowing to absorb fully.

Ingredients: Aqua, Aloe Vera Juice, Neroli Water, L-ascorbic Acid, Glycerin, Fucogel 1000, Marshmallow Root Extract, Horsetail Extract, Melissa Leaf Extract, Rosemary Extract, Calendula Extract, Daisy Extract, Pansy Extract, Clover Extract, Lichen Extract, Echinacea purpurea Extract, Lemon Essential Oil, Neroli Essential Oil, Jasmine Essential Oil, Mandarin Orange Essential Oil, Lime Essential Oil, Bergamot Essential Oil, Patchouli Essential Oil, Soluble Collagen, Lactic Acid, Grape Seed Extract, Vitamin E, Green Tea Extract.