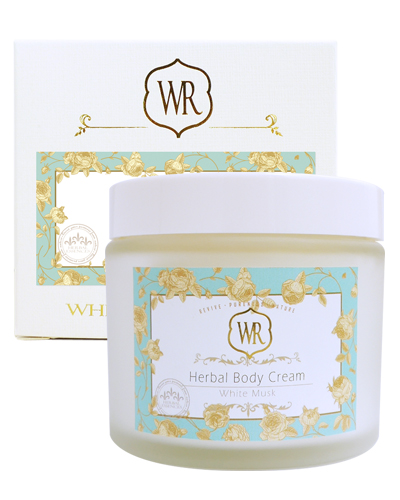 WRN032
WR Herbal Body Cream - White Musk
250ml
With ylang ylang water, EPO and pure essential oils

A luxurious body cream featuring the beautiful and relaxing scent of white musk. Enriched with Evening Primrose Oil, Jojoba Oil, Shea and Cocoa Butter that leaves dry skin feeling hydrated, soft and smooth.

Direction: Apply generously over body and massage into skin until fully absorbed. For optimum hydration, use immediately after bath or shower on damp skin.

Ingredient: Ylang ylang water, sweet almond oil, jojoba oil, caprylic/capric triglyceride, glycerin, evening primrose oil, glyceryl stearate citrate, aloe vera juice, cucumber extract, seaweed extract, rosehip extract, linden extract, ivy extract, grapefruit seed extract, xanthan gum, beeswax, sodium PCA, grapefruit essential oil, cypress essential oil, amyris essential oils, white musk fragrance, cocoa butter, shea nut butter, vitamin E, stearic acid.